---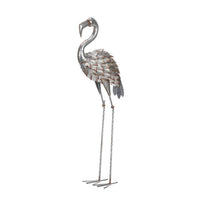 Complement your outdoor decor with this beautiful galvanized flamingo! Made of iron, this flamingo is suitable for both indoor and outdoor use! Moreover, it is easy to wash and dust off.

This elegant statue will add a real touch of originality to your decor without overloading your environment. Its striking pose allows you to easily integrate it into any ambiance inside and outside.
The textured feathers and gorgeous detailing  make this flamingo very elegant. She will look great among your shrubs and flowers!
13 x 8 x 38"T
Iron